Monday, April 27, 1998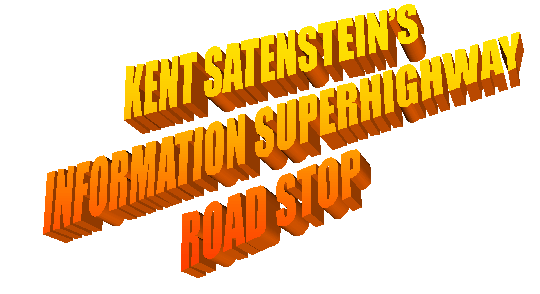 I hope everyone likes the new look of the site. Finally figured out what I'm doing - sort of, but this thing keeps on growing and growing! Well, I'll keep updating the movie news, and possibly others, so carry on! Have fun!
This is my humble little website. Here, you can find some of the coolest websites on the web, and some of the hottest news on new movies, comic books, fantasy, and science fiction. You also will have the opportunity to hear about me - so if that doesn't excite you, nothing will! CARRY ON!!!!
TABLE OF CONTENTS
Part I: Information about ME!
Part II: The "hottest" movie news on the web
Part III: Awesome links on the web
Part IV: AK Games - the best gaming company ever, has it's own little spot here too
PART I: MYSELFNESS
NAME: Kent Satenstein
Born: December 11th, 1982
Occupation: Student, relly smertt guyy, future world monarch
Hobbies: Computers, Magic the Gathering, Star Wars and the CCG, X-Files and the CCG, women, baseball, women again, the outdoors, hunting, and did I mention women?
Friends on the Web: Be sure to say hello to/harass Adam Bertocci (
AdamPB@aol.com
, Adam Bertocci's Online Universe),
CWOboe@aol.com
(Charles Walton) and many others that you probably don't care about so let's move on shall we?
OK, one more friend that you need to harass, and please, PLEASE harass him, Peter Michael Torrabkan or
Shbazz@aol.com
.
FOR COMPLAINTS/PRAISES/SUGGESTIONS/MOVIE NEWS/ANCIENT CURSES WRITE TO ME AT
PLEASE WRITE!
Part II: News
First, I would like everyone to know that I am a huge Superman fan. I have been so all of my life and would like to tell you now, when you notice that a great deal of effort has been put into the Superman section of this page.
MOVIES
SUPERMAN LIVES/REBORN
This movie has been in the making for several years! It's current release date is Thanksgiving 1999, but a summer release that same year has also been discussed. The story will somewhat follow the 1993 comic series on the death and return of Superman. I won't tell you the plot, I'll let you read it yourself. Here's a copy of the first draft of the Superman script. Enjoy!
SO FAR (these are of course subject to change)…
Nicholas Cage = Superman
Linda Fiorentino = Lois Lane
Kevin Spacey = Lex Luthor
Patrick Stewart = Braniac
Jack Nicholson = "K" (a possible alternate name for the eradicator)
Michael Keaton = cameo as Batman (at the funeral (not in script).
GREEN LANTERN
This project has basically just started. Kevin Smith (writer of above, Chasing Amy, View Askew, and others) has been hired for the script, as DC and Warner have both expressed interest in the franchise. That's all the info for now.
THE X-FILES
The movie is done. It's called The X-Files: Fight the Future. David Duchovny, Gillian Anderson, Skinner, and all the rest of that zany crew appear, as well as a cameo from Martin Landau, as a government hush-hush agent. The story focuses on a virus being planted by the government is sinc with the aliens. Mulder and Scully fall in love as well.
LOST IN SPACE
I just saw a kick-ass preview for this movie. The SFX look great. I also heard it is a dark sci-fi version of the underfunded nostalgic hit, and got early rave reviews. By the way, old timers. The robot does say "danger will robinson! Danger!"
DEEP IMPACT/ARMAGEDDON
The two asteroid movies of the spring/summer. I read a review of both, and Dreamwork's Deep Impact seems to be taking the critical lead. Morgan Freeman stars in DI whilst Bruce Willis and Ben Affleck star in Armageddon.
THE TRUMAN SHOW/ED TV
Two movies about people's lives being filmed. Jim Carrey stars in TTS, while Ellen DeGeneres stars in Ed TV. No other news as of yet.
SPECIES II
Natasha Henstridge returns to combat an astronaut infected with alien DNA. The release is this summer. Expect a higher budget, yet cheezy one-liners. Their tag line is "mating season is on: AGAIN!"
BARNEY: THE MOVIE
The only thing I know is that teenagers everywhere will flee this summer, as Barney hits the big screen. I'm up for Barney eating those obnoxious little twerps by the sequel (friendly carnivore my ass!)
BATMAN V
Joel Schumacher (director III and IV) has been officially canned. So has Chris O'Donnel for that matter (he said he wouldn't work without him, so WB made due). Bats will be getting a dark makeover this time, reverted back to his proper state in which he had a good medium in I. The Scarecrow and the Joker (yes, I know he's supposed to be dead, but they're starting a new series) will appear, with Nicholson saying at a "As Good as it Gets" premier that "The Joker will return." So far, John Travolta is slated for the scarecrow, and Clooney will return as the bats, with Keaton making an bats appearance in Superman V (Clooney wouldn't do it.) Sheesh.
THE LORD OF THE RINGS/THE HOBBIT
There has been some interest sparked in making a live action version. Prequels were discussed instead of the original trilogy. Sound familiar? Speaking of which…
STAR WARS: I HAD TO GET TO THEM EVENTUALLY!
The first prequel is just about done. Production on the 2nd will began by November, with Natlalie Portman off the set, and James Earl Jones appearing. The first prequel will open May 2nd, 1999. Preceding Superman Lives, so hopefully it won't get beaten too bad.
INDIANA JONES IV
Rumor has it that George Lucas will start a new Indiana Jones film after he his finished the prequels to the Star Wars triliogy. The film will focus on Indiana Jones, his evil brother, and his father. Indy will also have a family, and will be more aged, to account for Harrison Ford's current age.
THE CROW III
The new film is now in production. It is called The Crow:2042. Unfortuneatley, I don't have any other news on this subject.
PRINCE OF EGYPT
This Ten Commandments animation film will be done by Dreamworks in their first animated film. The animation is incredible. For full color pictures of this masterpiece, contact Ain't It Cool News.
MAJOR LEAGUE III
Charlie Sheen will return in an May release of Major League: Back to the minors. I don't know about the rest of you, but I think the 2nd one especially sucked.
A BUGS LIFE
Another full length computer animated film. I don't know the plot, but it features the makers of Toy Story.
STAR TREK 9
Nicknamed "Stardust." This film includes all our favorites, and will feature a Star Trek Vish beginning, with Picard on vacation, and later attacked by a race called the Son'a.
KENT: BIOGRAPHY OF A GENIUS
For all those who actually looked down at this sentence, I utter a silent prayer, and thank you for your support.
NOT SATISFIED? Go to one of the best websites I have ever seen! They send spies into movie studios to get the best film news ever! AIN'T IT COOL? EXACTLY!
http://www.aint-it-cool-news.com/ - Ain't it Cool News (go here now!!!!)
COMICS (okay, well mostly Superman)
This is one of the newer sections of the page, and will cover mostly DC, but I expect much growth. Just keep sending me news!!
SUPERMAN: LIFE - Doomday/Superman, match 3. If you recall, Superman and Doomsday last duked it out in Superman: Doomsday in 1994-5. It was a pretty cool series, so I don't know what to expect. It's due out later this year.
GREEN LANTERN: The Return of Hal Jordan - Later this year, DC Comics will return Hal Jordan to the comic via good old fashioned time travel. Yep, that's right. Kyle Rayner will travel back in time to find the old Hal to help him out. Whether or not he'll stay is basically up to the readers DC says.
DC ONE MILLION - I don't know what it is, but it's big and it's coming this fall.
PART III:
THE LINKS!
Excellent WEBSITES
http://corona.bc.ca/films/mainFramed.html - A great coming attractions site
http://www.superman.com/ - DC Comics Online
http://www.starwars.com/ - The Official Star Wars Webpage
http://www.decipher.com/ - Dechipher OnLine - best CCG website aro
http://www.wizards.com/ - Wizards of the Coast - Makers of Magic
http://www.aint-it-cool-news.com/ - Ain't It Cool News - another great movi
http://members.tripod.com/~Shokwave32/monkeyman - THIS IS THE MONKEY MAN GRAPHIC! HERE, T
The Best Search Engines on the web
http://www.yahoo.com/ - Needs no introduction, yahoo! Rocks
http://www.excite.com/ - Excite: the net's best kept secret
http://www.webcrawler.com/ - The broadest searcher around
PART IV:
AK Games was founded in 1995, and has made several games for GW, Q, and Visual Basic. For those who speak normal English, that means we make games for both Windows and DOS. Here they be…
The Original Pointless Game that Rots your Brain. This GW Basic game (you need GW BASIC to run it) features a such a bizarre plot, you'd have to see it to believe it. Trust me, it's a quick download.
..\AK Games\BASIC\POINTLES.BAS
Then, came our next game. Might and Magic. This game features elements from the strategy card game Magic: the Gathering, but you didn't hear it from me. It's fun, and you get to blow stuff up. P.S. Try typing your name in as Jennifer Aniston in the Pointless Game and Cameron Diaz in Magic. Prepare for a surprise.
Our pride and Joy, Punjo the Great is a full 256 Color, hilarious, windows based game. Enjoy it. NOW!
..\AK Games\Punjo the Great.exe
THANK YOU OH PATIENT ONES, BUT THIS IS WHERE MY WEB SITE ENDS. THANK YOU FOR VISITING
TTFN: TATA FOR NOW.